Building a Unified, Relevant, and Responsive Psychology
A Global Partner in Organised Psychology
PsySSA was formed in January 1994, uniting the various bodies that existed until then. PsySSA was structured as a transformed entity to deal with the fast-changing dispensation and speaks authoritatively on behalf of the discipline on matters concerning the mental health and psychosocial well-being of all South Africans. PsySSA has since its inception been dedicated to making a significant contribution to solving the pressing human development problems in South Africa.
Recent Posts
A summary of PsySSA's most recent posts and statements
PsySSA Workshop Series: Workshop 9: The tyrannies of pink and blue reproducing gender in primary schools
Membership
Become part of the largest Psychological Society in SA
The Psychological Society of South Africa (PsySSA) is the professional body representing psychology professionals in South Africa.
PsySSA Position Statements and Media Releases
Press releases, Position Statements, Media Releases…
As we approach yet another 16 days of activism against gender-based violence during what has been a very difficult year, especially for women and gender non-conforming persons, we as the Sexuality and Gender Division of the Psychological Society of South Africa...
COVID-19…Extraordinary and Challenging Times…
Cape Town | The Sisonke investigators would like to extend an invitation to all unvaccinated health workers to register for and receive the JnJ vaccine as part of the Sisonke trial.   Sisonke vaccinations resumed Wednesday 28 April after we received approval from the...
04 May 2021 BREAKING NEWSRegistration now OPEN for all OOH HCW STAFF Dear HCW As part of the Phase 1 Roll-Out to Vaccinate all Healthcare Workers, we urgently request that you register and book all 'Out of Hospital' Health Care workers to be vaccinated next. This...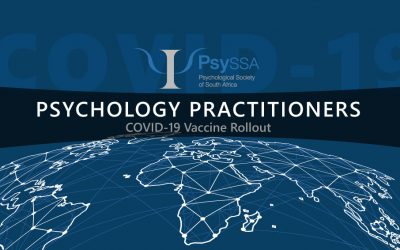 V4HCW have developed this very helpful site to answer questions regarding the vaccine. They will update regularly. The following sites are of importance
Facebook Feed
The Psychological Society of South Africa (PsySSA) is the professional body representing psychology professionals in South Africa.
Instagram Feed
To see the Instagram feed you need to add your own API Token to the Instagram Options page of our plugin.
Classifieds
We reserve the right to edit, categorize, revise, or to decline any classified advertisement. The information contained in this section has been provided by the advertisers. While we endeavour to keep the information up to date and correct, we make no representations or warranties of any kind, express or implied, about the completeness, accuracy, reliability, suitability or availability with respect to the information included here. Any reliance you place on such information is therefore strictly at your own risk.
ELISE BEEBY PSYCHOLOGICAL PRACTICE AT PALM TREE CLINIC Acute Psychiatric Clinic 19A Pentz drive Flamingo Vlei Requires A Clinical Psychologist DBT Trained on a sessional basis Tel:  021 556 6070 Email: elisebeeby@telkomsa.net/bloubergmedispa@gmail.com.