A Global Partner in Organised Psychology
PsySSA was formed in January 1994, uniting the various bodies that existed until then. PsySSA was structured as a transformed entity to deal with the fast-changing dispensation and speaks authoritatively on behalf of the discipline on matters concerning the mental health and psychosocial well-being of all South Africans. PsySSA has since its inception been dedicated to making a significant contribution to solving the pressing human development problems in South Africa.
Recent Posts
A summary of PsySSA's most recent posts and statements
The South African Journal of Psychology (SAJP) is the official journal of the Psychological Society of South Africa (PsySSA). The SAJP publishes peer-reviewed contributions in English from all fields of psychology. Whilst the emphasis is on empirical research, the journal also accepts theoretical and methodological papers, review articles, book reviews, and comments on articles published in the journal. Priority is given to articles relevant to Africa and that address psychological issues of social change and development.
Membership
Become part of the largest Psychological Society in SA
PsySSA recently launched a webinar platform featuring interactive talks and presentations. Here you will find links to the different webinars completed in 2020 and upcoming webinars for 2021.
PsySSA is pleased to announce that it will be hosting an exciting webinar series titled Troubling Psychology in Troubled Times. This series will include 4 webinars and will culminate in The Annual PsySSA Presidents' Memorial Lecture. 
The webinar series will also enable our members to keep their CPD Points up to date. As an added bonus, this webinar series will be offered free of charge!
Did you miss our second webinar of our 2021 Webinar Series, Decolonial Praxis in Contemporary Global Community Psychologies?
Don't worry, watch it now on our YouTube Page!
PsySSA 2021 Webinar Series – Troubling Psychology in Troubled Times – Psychoanalytic Innocence: The Ideological Underpinnings of Theory and Praxis
PsySSA 2021 Webinar Series – Troubling Psychology in Troubled Times – Freedom Looks Like This Here
2020 Webinar Series
View the recordings by clicking on the links below…
More webinars to follow in 2021… watch this space. 
PsySSA Publications
PsySSA has a proud tradition of industry leading publications and continues to influence the profession through ongoing media statements, policy documents, and practice guidelines.
SAJP: Call for an Editor
View the details in the link provided.
Information for the Public
Psychology is a profession dedicated to serving society. Whether you are interested in becoming a psychologist or looking for a psychologist, this section is for you. 
COVID-19…Extraordinary and Challenging Times…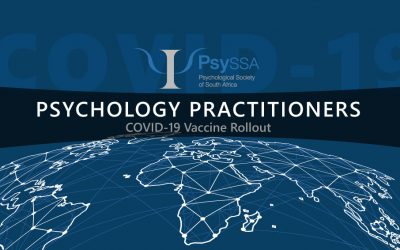 V4HCW have developed this very helpful site to answer questions regarding the vaccine. They will update regularly. The following sites are of importance
In the last 12-months, the world and our very way of life has been fundamentally altered by the global pandemic, and we have had to learn to manage the catastrophic health, psychosocial, social and economic effects that have emerged as the primary consequential outcomes of COVID-19. Recently, our attention has been re-directed to the hopes associated with the development of  efficacious vaccines to combat the virus. Management of the pandemic has profoundly shifted to issues related to vaccine development, trials and efficacy, approval, production, distribution and scalable population rollout.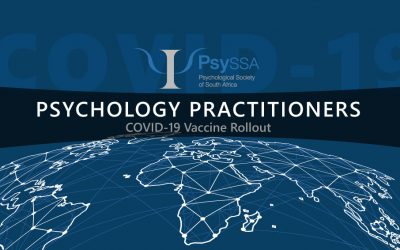 Dear PsySSA Member We trust that this email finds you in good health. As you may be aware, South Africa's vaccine rollout to healthcare workers has seen more than 70 000 vaccines already administered to date. This programme is expected to gain momentum in the...
Facebook Feed
The Psychological Society of South Africa (PsySSA) is the professional body representing psychology professionals in South Africa.