2021 Webinars
PsySSA is pleased to announce that it will be hosting an exciting webinar series titled Troubling Psychology in Troubled Times. This series will include 4 webinars and will culminate in The Annual PsySSA Presidents' Memorial Lecture. 
The webinar series will also enable our members to keep their CPD Points up to date. As an added bonus, this webinar series will be offered free of charge!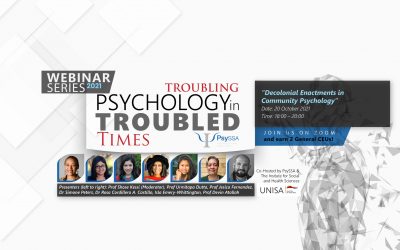 Did you miss our fourth webinar of our 2021 Webinar Series, Decolonial Enactments in Community Psychology ?
Don't worry, watch it now on our YouTube Page!