A Global Partner in Organised Psychology
PsySSA was formed in January 1994, uniting the various bodies that existed until then. PsySSA was structured as a transformed entity to deal with the fast-changing dispensation and speaks authoritatively on behalf of the discipline on matters concerning the mental health and psychosocial well-being of all South Africans. PsySSA has since its inception been dedicated to making a significant contribution to solving the pressing human development problems in South Africa.
Recent Posts
A summary of PsySSA's most recent posts and statements
WITS University psychology researcher, Tasneem Hassem has been awarded R100 000 in seed funding to advance the development and commercialisation of the first validated online depression screening tool suitable to the South African context. Developed over four years as part of her PhD studies in psychology, the tool offers an empathetic and unintimidating first step towards recognising, understanding and seeking help for depression.
Membership
Become part of the largest Psychological Society in SA
The Psychological Society of South Africa (PsySSA) is the professional body representing psychology professionals in South Africa.
CPD/CEU Accredited
2021 Workshop Series
Neuropsychological Rehabilitation
Join us for a series of

dynamic workshops on

knowledge and skills

innovations in the field
Evidence-based psychotherapy
Community and Social Psychology
PsySSA recently launched a webinar platform featuring interactive talks and presentations. Here you will find links to the different webinars completed in 2020 and upcoming webinars for 2021.
PsySSA is pleased to announce that it will be hosting an exciting webinar series titled Troubling Psychology in Troubled Times. This series will include 4 webinars and will culminate in The Annual PsySSA Presidents' Memorial Lecture. 
The webinar series will also enable our members to keep their CPD Points up to date. As an added bonus, this webinar series will be offered free of charge!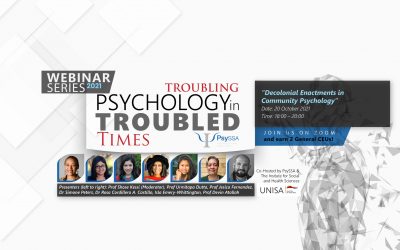 PsySSA 2021 Webinar Series – Troubling Psychology in Troubled Times – Decolonial Enactments in Community Psychology
Did you miss our third webinar of our 2021 Webinar Series, Psychoanalytic Innocence: The Ideological Underpinnings of Theory and Praxis?
Don't worry, watch it now on our YouTube Page!
Did you miss our second webinar of our 2021 Webinar Series, Decolonial Praxis in Contemporary Global Community Psychologies?
Don't worry, watch it now on our YouTube Page!
2020 Webinar Series
View the recordings by clicking on the links below…
More webinars to follow in 2021… watch this space. 
PsySSA Publications
PsySSA has a proud tradition of industry leading publications and continues to influence the profession through ongoing media statements, policy documents, and practice guidelines.
Special Section: Call for Papers
The South African Journal of Psychology and the African Journal of Psychological Assessment are inviting authors to submit papers for Special Sections in these publications. Please view the details in the links provided.
Information for the Public
Psychology is a profession dedicated to serving society. Whether you are interested in becoming a psychologist or looking for a psychologist, this section is for you. 
Find a Psychologist
Looking for a psychologist? Or just wondering what Psychology is all about? This section is for you…
COVID-19…Extraordinary and Challenging Times…
Cape Town | The Sisonke investigators would like to extend an invitation to all unvaccinated health workers to register for and receive the JnJ vaccine as part of the Sisonke trial.   Sisonke vaccinations resumed Wednesday 28 April after we received approval from the...
04 May 2021 BREAKING NEWSRegistration now OPEN for all OOH HCW STAFF Dear HCW As part of the Phase 1 Roll-Out to Vaccinate all Healthcare Workers, we urgently request that you register and book all 'Out of Hospital' Health Care workers to be vaccinated next. This...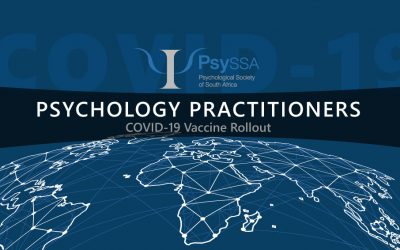 V4HCW have developed this very helpful site to answer questions regarding the vaccine. They will update regularly. The following sites are of importance
Facebook Feed
The Psychological Society of South Africa (PsySSA) is the professional body representing psychology professionals in South Africa.